ISAD Events platform
Welcome to Gdańsk!
Gdańsk 2023


Georg RAJKA Symposium
hybrid symposium (Gdańsk, PL)
August 31~September 2, 2023, 08:00 - 19:00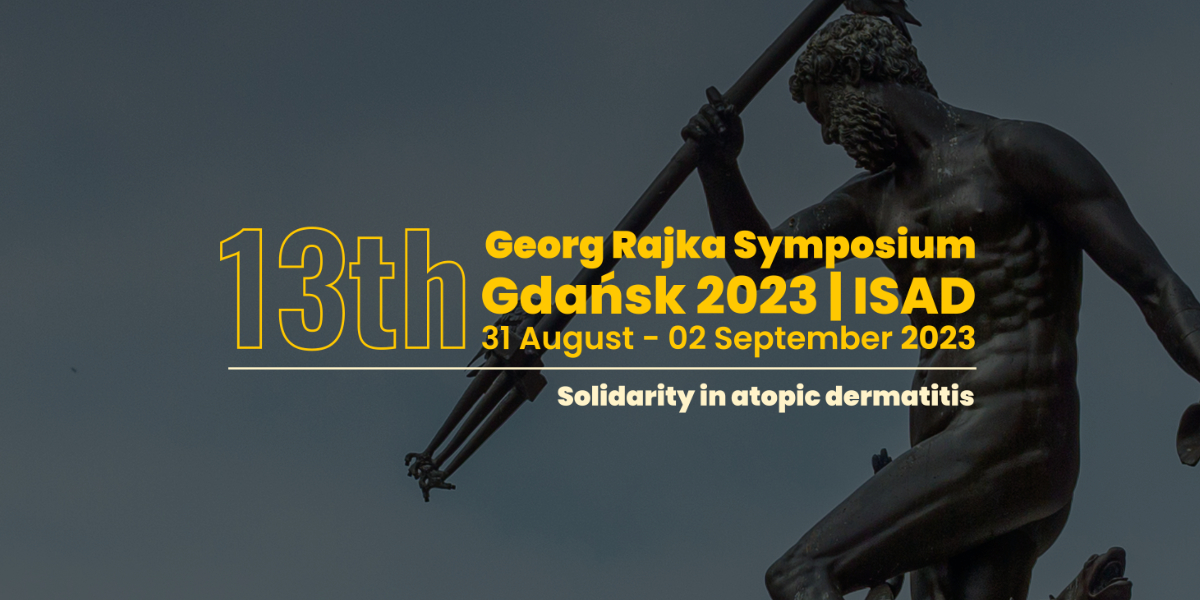 Guidelines
We are inviting abstract submissions for the 13th Georg RAJKA symposium of ISAD, Gdańsk 2023.
Abstracts for oral and poster presentations will represent the core of the scientific program at this meeting. Abstracts pertaining to human atopic dermatitis and related fields including animal models are appropriate.
Important dates (2023)
Submission opens
Friday, Feb. 10th
Submission deadline
inclusive, 23:59 Poland/CEST time
Monday, May. 15th
Notice of Adjudication
Tuesday, Jul. 4th
Presenting author registration deadline
Monday, Jul. 10th
E-Poster submission site opens
Monday, Jul. 10th
Oral presenters deadline (Virtual/In-Person attendance)
Wednesday, Aug. 23rd
E-Poster submission site closes
Monday, Aug. 21st
Understand day included.
Abstract submission process
Abstracts will be accepted via this online submission system only (email submissions will not be accepted).
One can submit abstracts (one or many) on our platform with its personal account, and non-authors can submit on behalf of an author (who needs an account too for the follow up). The submitter warrants that he/she has the full power, authority and capacity to submit the abstract and agree to these terms and conditions.
An email acknowledgement of receipt of your submission(s) will be sent automatically to the submitter upon completion of the online submission, and to the presenting/corresponding author(s).
The deadline to submit your abstract is Mon, 15th May 2023 (included); submitting authors and/or presenters may modify their submission(s) until this date. Late or incomplete submissions will not be accepted.
The official language is English only.
Read carefully the 3 agreements to accept at the end of the submission form (condition of acceptance, publication authorization, statement of responsibility, cf. platform)
Encore presentations are not accepted, even with updated study/data.
Abstract format
Please indicate your preference. Abstract submissions will be reviewed for presentations in one of two formats:
1. oral presentation in the main program
2. or poster presentation (via e-poster)
Every effort will be made to accommodate your request based on considerations regarding space availability and conference program themes. Please indicate in the online submission form if you will consider a poster presentation in the event if your abstract is not selected for an oral presentation. A few selected posters will be scheduled for short oral poster presentations.
Abstract topics
All abstracts submitted must address one of the conference topics for inclusion in the program. When submitting an abstract, please select the topic that your abstract most accurately applies to from the list below.
Mechanisms of disease and models
Topical treatment and phototherapy
Global Corporate Pharma perspectives
AD comorbidities
Systemic strategies for children and adults
Travel grants and ISAD fellowships
Challenges in AD management
Breakthroughs in AD treatment
Initiatives at the international level — poster only
Multispecialty approach — poster only
Accessibility to drugs in AD — poster only
Therapeutic patient education — poster only
Other — poster only
In addition, please describe accurately your abstract content with 2 or 3 keywords from the provided list in the form.
Abstracts selected for poster or oral presentations will be reproduced exactly as submitted and substitutions will not be permitted. Be sure to proofread your abstract very carefully before submitting.
Abstract guidelines
Title

Use a concise descriptive title that indicates the content of the abstract.
Please minimize the use of abbreviations in the title.
Commercial trade names for drugs, devices, products and services may NOT be used in the title.

Authors

Names and surnames for each author must be provided, each author should be listed by department, institution, city, and country. Do not include degrees or titles. There is no limit about the number.

Contacts

Presenting and corresponding author's contacts are indicated in the proper section of the online form.

Abstract body

Limit your abstracts to no more than 1600 characters (count does not include spaces).
Do not include tables/charts, graphics or images in your abstract.
Drugs, devices, products, and services should be identified by generic name only within the abstract. Refer to generic names rather than brand names.
Only common and standard abbreviations may be used without definition.

The body of the abstract should be formatted with the following five sections:

1. Introduction / Background (mandatory)
2. Objective (optional for clinical case)
3. Method (optional for clinical case)
4. Results (optional for clinical case)
5. Conclusions (mandatory)
Late-breaking abstracts
Currently, there is no late-breaking abstracts submission period.
Abstract adjudication
Abstracts will be peer-reviewed and ranked by ISAD Scientific Committee members. Notice of abstract adjudication will be provided Tue, 4th July 2023. Initial correspondence will be addressed to the submitting contact by email. After acceptance, all correspondence will be directed by email to the designated presenting author only, unless otherwise requested.
Presenting author registration deadline
Presenting authors not registered by Mon, 10th July 2023 will forfeit both their invitation to present and have their abstract included in the conference platform. Changing presenters to another author is allowed prior to this date but a non-author can not present on behalf of the authors. Changes of presenting authors must be made in writing to support@isad.org
Presentations
All material will be presented "in person" in Gdańsk, no remote presentation is possible.
Oral presentations
Oral presentations will take place live in Gdańsk, Poland, in real time during scheduled sessions based on local time (CEST, visit the time converter). As this will be a hybrid conference (in-person and online), accepted oral presenters will have the choice to present their oral presentation in-person in Gdańsk or virtually via their computer. Virtual presenters must have access to a computer with camera and audio and a wired internet connection or strong Wi-Fi. The time zone of all presentations will be Central European Summer Time (CEST).
Oral presenters must confirm if they will attend in-person or virtually by Wed, 23rd August 2023.
Posters presentations
E-Posters will be available online via the virtual conference platform. E-poster submission guidelines will be sent with the notification of adjudication (info: QR codes are accepted). The online e-poster submission site will open that day (Mon, 10th July 2023), and close Mon, 21st August 2023. Late submissions or changes after closing date will not be accepted.
Embargo
Submitted abstracts are considered confidential by ISAD until publicly presented and/or published in connection with the symposium. Prior to such presentation or publishing, the author(s), research sponsors, or proprietors of the copyright in the abstract(s) may not make the information public or use the information for trading purposes without obtaining prior written permission from ISAD.
Copyrights
All copyrights remain to the author(s).
Privacy policy
Submitters agree that ISAD will process their personal data, including storing or transferring such data outside of their country of residence, in order to process transactions related to the publishing and/or presentation of their abstract. Submitters also confirms that same permission has been obtained from all other contributors/authors in accordance with these terms and conditions.
Thank you for attending!
By the end of September:
Presentations, posters and recordings will be available very soon to all attendees (only).
Certificates will be sent by email.
Payments for ITG are made, it may take up to 3 weeks to appear in your bank account depending on your country of banking residence.